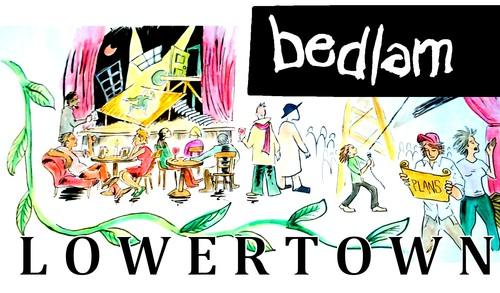 Bedlam Lowertown Vision. Image credit: Johann Hauser-Ulrich.
Bedlam Lowertown
The outer limit of the local imagination since 1993, Bedlam is your average, one-of-a-kind, classic, iconic, irrational theater company based in the Twin Cities. Bedlam Lowertown will operate year round as a venue for performance, a launch pad of activity into the streets and lofts of Lowertown, as well as a place to share a bite and grab a drink. This mix of activity cross-pollinates new thinking, exciting discussions, and enticing performance ideas.
Celebrating its grand opening during Northern Spark, Bedlam will be a hub of information and live journalism on the night's activity—a center for conviviality and a spot to score some food and drink! Deep into the night, the floor will be cleared and the beats will emanate out into the streets, inviting Sparkers to pop in and cut a rug. This event will be led by a team of DJs organized by Rambo Salinas, HOTPANTS cofounder, who is putting a crew together with a kaleidoscope of old-school genres, spanning classic R&B, deep funk cuts, Afro-beat, worldwide discotheque, and so much more, all on vinyl. Stop in, check out Bedlam's new digs, and get this party started!