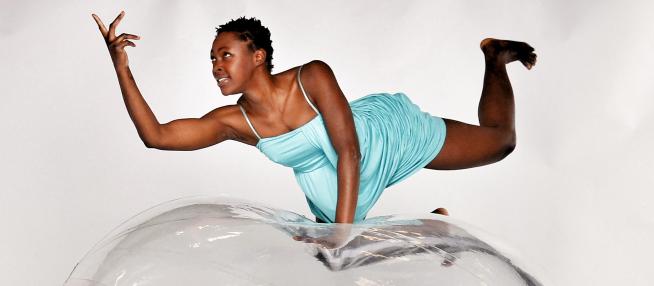 Dance of A Thousand Water Dreams, Ananya Dance Theatre. Photo credit: V. Paul Virtucio.
Dance of a Thousand Water Dreams
7 pm: Inspired by the imagination of water in indigenous cosmologies, alfresco processional performance begins at Lambert's Landing, on the Mississippi River near Warner Road & Jackson Street. The public is welcome to participate.
7:15 pm: Water is raised from the River in meditative silence. The voices of Cherry Spoon Collective musicians and poet Mankwe Ndosi soar across the sky to end the meditation and begin the first dance, "Awakening."
7:30 pm: Water ritual, conducted by Native activist Sharon Day. 
7:40 pm: Lanterns lead "River Ancestries," a processional dance, from Lambert's Landing up Sibley Street to Union Depot plaza. 
8:20 pm: Procession dance ends with flame lighting.
11:40 pm: Dancers, musicians, and audience gather at the  plaza water sculpture to light lanterns and candles for "Water Bodies," a danced struggle between the Zuni god, Swallower of Clouds, and the water goddesses Oshun, Ganga, Chalchiuhtlicue, and Mazu. A midnight procession through Union Depot's waiting room concludes at 12:45 am.
Throughout the night, the public may place written memories and wishes for water at the plaza sculpture.
4:20 am – 5:20 am: Sound artists summon all to rise and dance on the plaza in "Shifting Course" as Swallower of Clouds is vanquished by the goddesses who then lead a triumphant dance down Sibley Street to Lambert's Landing and closing ceremony led by Sharon Day. 
Learn choreography and practice at home: As of May 17, ADT's website features an instructional video of the four segments of choreography used throughout the night.
Presented by Ananya Dance Theatre, musicians from Cherry Spoon Collective, poet Mankwe Ndosi, and Native activist Sharon Day.