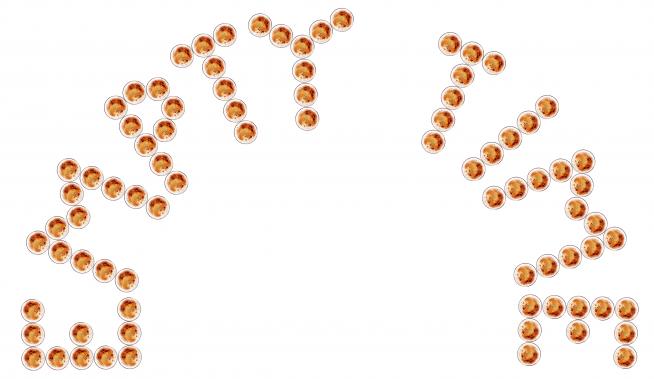 Concept Image for Empty Time. Image credit: Pritika Chowdhry.
Empty Time
Empty Time debuts at Northern Spark as an experience-based, interactive display that allows visitors to experience how glass art captures light and sound in an entirely new way. Installation artist Pritika Chowdhry investigates the power of language as a container of emotion, arranging a collection of glass vessels inspired by ASI's glass collection. In this durational, site-specific installation Chowdhry arranges uniquely to form the phrase, Empty Time. The vessels will be filled with a liquid to varying levels, which will evaporate over the duration of the installation. Based on the Indian musical practice of Jal Tarang, the audience may interact with the work by lightly touching the vessels with small bamboo or reed sticks, thus creating sounds to animate the work and the space in which it is installed.
The curation of Swedish Glass has traditionally been presented within an established framework that defines what and how glass art should be displayed – typically as a commodity to be bought and sold that reflects Nordic design and craft. Through this installation, Chowdhry presents ASI's historic glass collection in a new, immersive way.
Pritika Chowdhry
Pritika Chowdhry is a multi-disciplinary artist, curator, and educator who currently serves as Artist in Residence at the American Swedish Institute. Pritika has shown her works nationally and internationally in group and solo exhibits in the Queens Museum, New York; the Nature Morte gallery, Berlin; the Islip Art Museum, Long Island; the Hunterdon Art Museum, New Jersey; the Soap Factory, Minneapolis; the Seven Art gallery, New Delhi; and the Rohtas gallery, Pakistan. Born and brought up in India, Pritika moved to the U.S. in 1999. Pritika has an MFA in Studio Art from University of Wisconsin – Madison, as well as an MA in Visual Culture and Gender Studies; and was Visiting Assistant Professor at Macalester College and College of Visual Arts, both in St. Paul, Minnesota.