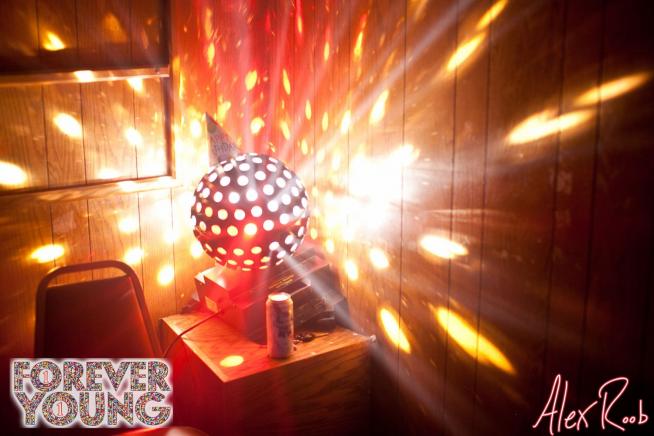 Return to the basement. Photo credit: Alex Roob.

Forever Young Dance Installation
The Forever Young Dance Installation is simple and fun—a space in Union Depot that, via an art installation, is a getaway for the artistically uninitiated. Based on the Forever Young Dance Party that happens monthly in the basement of the Ballentine Post 246 VFW in Uptown Minneapolis, the Forever Young Dance Installation at Northern Spark will be a freestanding room, decorated like the basement you danced in when your friend's parents were out of town—a slice of home in Union Depot.
The party will take place in an on-site "basement" built by the Forever Young crew with help from artist Lea Sorrentino, one of the Walker's "Artists to Watch in 2013." Anyone can join in the dance party, gossip with friends in the corner, or be the wallflower sitting on the sofa. Event-goers can fully interact with the installation or watch the unspoken communication between partyers from outside. A late-night dance party is perfectly in its element at this all-night festival!
This project received support from Valu Thrift Store, Siwek Lumber & Millwork, Inc., and Ballentine VFW Post 246.