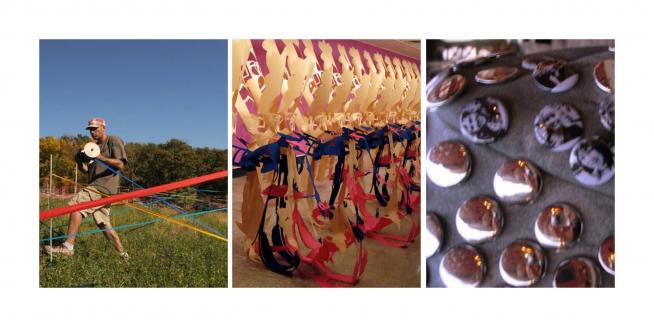 Connect | Reflect | Repeat. Image credit: Randy Walker, Liz Miller, and Andréa Stanislav.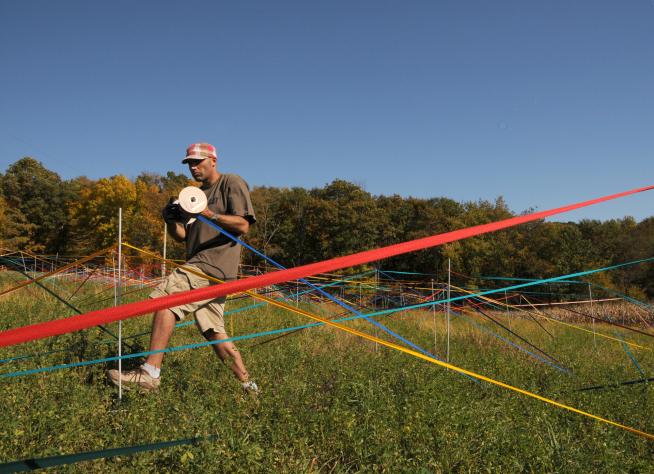 Randy Walker, Field Weave (in progress), 2011. Image credit: Randy Walker.
Liz Miller, Preposterous Cavalcade (detail), 2011. Image credit: Liz Miller.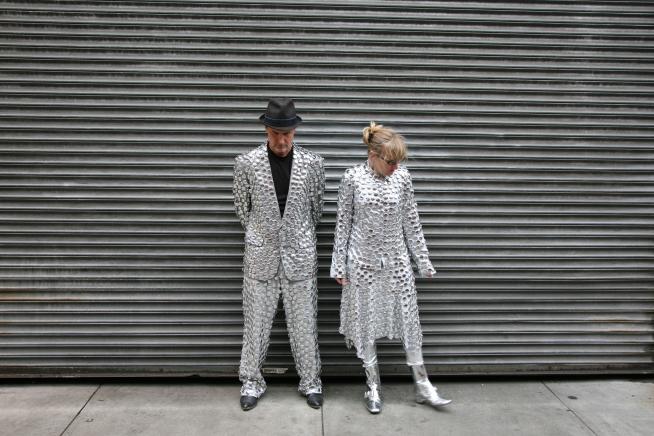 Andréa Stanisla, Reflect (performance still), 2009. Image credit: Andréa Stanislav.
Connect | Repeat | Reflect
For Northern Spark, the three artists featured in the exhibition "String | Felt | Theory" will take their art out of the gallery and onto the street with community art projects drawn from the material qualities of their installations: fiber, repetitive patterning, and reflective surfaces. Randy Walker has his eye on several objects along the lightrail track for wrapping with fiber. Liz Miller "loves" merging contradictory forms, and manipulates shapes by "mirroring, bending, and folding as well as through color choices." Make your own patterns using Miller's techniques. Andréa Stanislav will perform the interactive sculpture walk, "Reflect," for the first time in the Twin Cities.
June 8, 2013 is also International Yarn Bombing Day. MMAA will partner with local craft groups to pre-make "yarnbombs" in advance of June 8. Northern Spark visitors are invited to contribute to a massive community-made yarnbomb by helping to stitch together the pre-made pieces along the lightrail track on 4th Street between Robert and Sibley Streets, and beyond!
Light refreshments will be available for purchase to keep your creativity going all night. At 3 am, when your energy starts to wane, perk up with coffee and donuts on us!