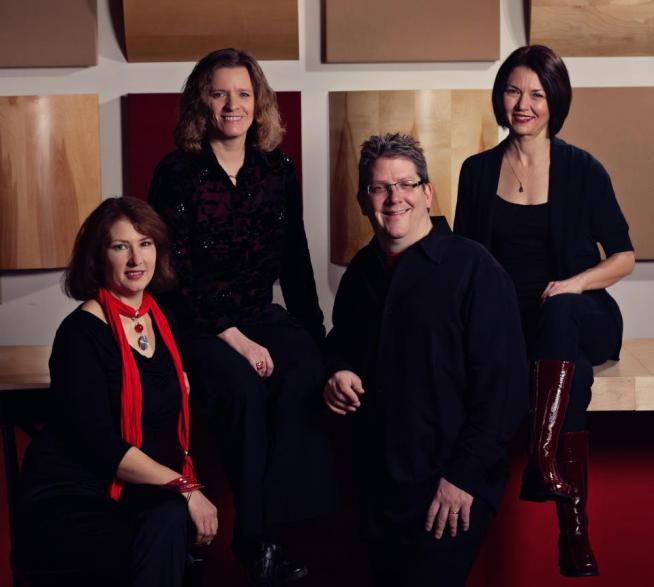 Zeitgeist. Photo credit: LMJ Originals.
Studio Z in Flux
Studio Z in Flux Performances
11:00 pm – 12:50 am – Fluxus Then and Now with Zeitgeist and Friends –  
Zeitgeist and guest performers realizing classic and newly created pieces from the Fluxus tradition. Works by Yoko Ono, Dick Higgins, George Maciunas, Alison Knowles, Nam June Paik, and all of our participating performing artists. Fluxus events encourage people to live artfully and are undertaken in the spirit of fun and discovery, with many works inviting all present to participate in the action. An open mind is a pre-requisite. Virtuosity is not. Expect balloons.
1:00 am – 1:50 am – The Dream Songs Project
Contemporary chamber music for voice and guitar by Minnesota composers. Performance will include selections from Songs of Cowboys and Hobos by Daniel Nass, Hens – Their Diseases and Cure by Christopher Gable, Letters from Composers by Dominick Argento, Voices by Carol Barnett, and A Ring of Birds by Jeffrey Van.
2:00 am – 2:50 am – Phil Fried and Friends
Composer and improviser, Phil Fried creates both notated music, including a centennial commission from the Minnesota orchestra for Episodes, and completely improvised solo bass performances. This performance features Phil on string bass in free improvisation mixed with real time electronics, mixed media and guest collaborators.
3:00 am – 3:50 am – Byerself, featuring Ross McEwen
Byerself is a solo project by Greg Byers, singer/songwriter & multi-instrumentalist. Using voice, electric cello, and laptop, Byerself crafts an effervescent sound sculpture with electro-acoustic songs somewhere between Kurt Rosenwinkel and Andrew Bird. This performance features psychedelic folk artist Ross McEwen.
4:00 am – 5:00 am – Philip Blackburn's "The Sun Palace"
An experimental music-film about tuberculosis, an old sanatorium for the 1%, quackery, kindness and hope.
5:00 am – 6:00 am – Sandhya and Sriram: South Indian Violin and Mridangam Duet
A spirited violin and mridangam (South Indian percussion) improvisational performance based on traditional South Indian music, also called Carnatic music. Sandhya Ramachandran, violin; Sriram Natarajan, mridangam.