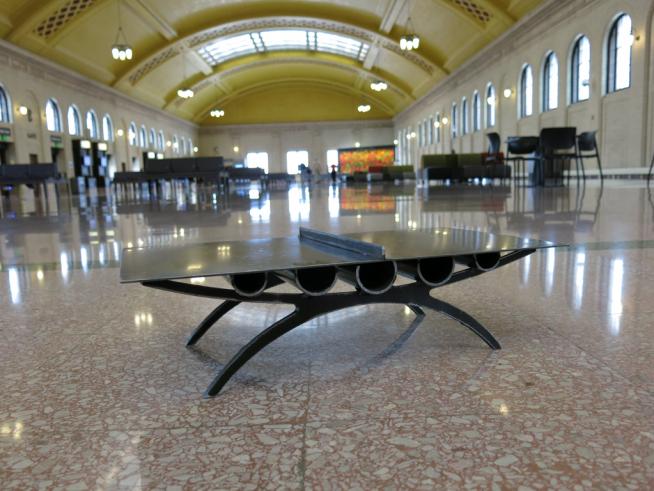 A scale maquette of the pingpong table in situ in Union Depot's newly restored waiting room. Photo courtesy of the artists.

Union Table
It's a game. It's a tool. It's an instrument. A game object and art instrument. The artist team has embraced the concept of Union Depot as the "Living Room of St. Paul" by combining sculpture and community game play. They have designed a multi-use pingpong table, Union Table, that acts as a place for entertainment, a tool for creating conversations and an interactive musical instrument for exploration and expression. Table tennis can be played by people of any age or skill level including singles and doubles. Grab a couple of paddles to enjoy a game with a friend, challenge a stranger to a friendly match, or grab the percussion mallets and improvise some music. The artists received a commission to create Union Table as part of the Union Depot Public Art Program. Keesecker is an artist specializing in composition and multimedia art. MacGuffie is a sculpture artist who often works in steel, and Thompson specializes in interactive/participatory activities in unexpected places.
Union Depot Public Art Program, funding provided by: Ramsey County Regional Railroad Authority, Federal Transit Administration.